I had a show of my paintings at a gallery called Maiden, Brooklyn.
by David Rhoden. Day .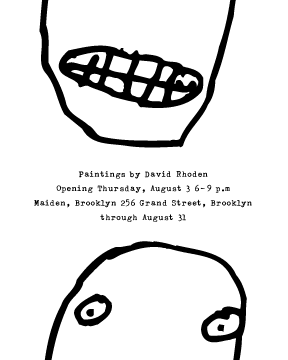 This is a mailer I made for a show I had at a gallery on Grand Street in Williamsburg, Brooklyn in 2006. It was an amazing show. A band called O Death played in the basement. It was terribly hot but I drank a lot of cold beer. Julia Rogers bought me a falafel.
I don't have a single picture from it! If you have one, would you e-mail me?
New York Brooklyn Williamsburg 276 Grand Street Melanie Koch Radek Szczesny Julia Rogers Maiden, Brooklyn painting shows