Dirty Knives played Mermaid Lounge with Westbury Squares and Astroblast.
. Day .
I remember this show vaguely. Around this time there were tons of bands doing "baroque pop", vaguely Kinks-y stuff with portable organs. Westbury Squares were practitioners.
What I wrote on the Dirty Knives website at the time:
(Sara's first show) was our best yet. The Mermaid was full and we played without making any mistakes, nope, none whatsoever. We opened with "Brown Eyed Girl" - not the Van Morrison chestnut (which I LOVE) but a song done by the Golliwogs, who were Creedence Clearwater Revival before John Fogerty took over. We ended with a new song called "(You Got My Mind Going In The) Wrong Direction" that I, David, wrote while I was trying to figure out the mixing board and track the vocal for our new album (soon to be released on Wargner Brothers Records). The guy in the next studio likes to practice his drums through a PA. I pulled a bass drum, a mic, and my amp into the center of the room and made up this song at the top of my lungs. The drummer went home, I finished the album, and now you will soon have a record of the muthafukkin Dirty Knives. Ha!
I don't even know who the person writing this stuff was.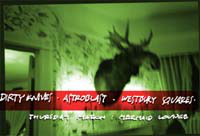 rock New Orleans Mermaid Lounge Dirty Knives Westbury Squares Sara "(You Got My Mind Going In the) Wrong Direction" "Brown Eyed Girl" (John Fogerty)
Previous: February 24, 2001: Dirty Knives played Rock n Bock with Lowerline.
Next: March 30, 2001: Hi-Balls played the Strathmore Ballroom.